Community Profile

Flight of the Conchords
it's business time
Free Account
Created on 2009-04-14 20:23:34 (#61005), last updated 2009-04-15 (440 weeks ago)
1 comment received
1 Journal Entry, 1 Tag, 0 Memories, 1 Icon

About
| | |
| --- | --- |
| Name: | Flight of the Conchords |
| | |
| | |
| Membership: | Open |
| Posting Access: | All Members |
| Community description: | All about Flight of the Conchords |

Mini Bio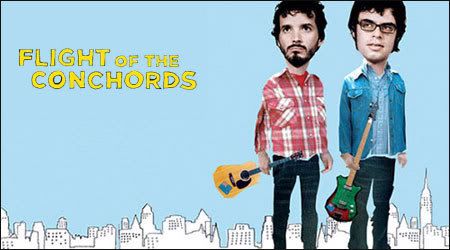 : : the show : :
Flight of the Conchords follows the trials and tribulations of a two man, digi-folk band from New Zealand as they try to make a name for themselves in their adopted home of New York City. The band is made up of Bret McKenzie on guitar and vocals, and Jemaine Clement on guitar and vocals.
Bret and Jemaine have moved to New York in the hope of forging a successful music career. So far they've managed to find a manager (whose "other" job is at the New Zealand Consulate), one fan (a married obsessive) and one friend (who owns the local pawn shop) -- but not much else.
To learn more about the show, visit
HBO: Flight of the Conchords
: : community membership : :
Community membership is open to everyone who is interested. Anyone can watch the community but in order to view locked entries, you must
join
the community.
: : community rules : :

Everything is allowed to be posted in this community. Anything from episode discussions, graphics, interesting links, news updates, pictures...

Only two rules:

[01] Un-aired episode spoilers go behind a cut!

[02] Pictures larger than 500px in width go behind a cut!


: : affiliates : :



Hopefully coming soon...



If you have a community related to FotC and would like to affiliate, just send me an email to causette@gmail.com


Connect
bret,
bret mckenzie
,
business time
, cello tape, conchords,
flight of the conchords
,
hbo
, jemaine,
jemaine clement
, motha uckas, murrey,
music
,
new zealand
,
robots
,
singing
, sticky stuff
Administrators

Members (15):
causette
,
entropyweasel
,
glassbomb
,
htbthomas
,
katemonkey
,
kinkihair
,
lawgrrl_23
,
lotte
,
queer_theory
,
ragna
,
sammm
,
shiverelectric
,
the_escapist
,
thymindmaymove
,
whatthefolk

Subscribers (14):

Linking
To link to this user, copy this code:
On Dreamwidth:
Elsewhere: